Happy Tuesday Friends and Happy 14th Birthday to Taylored Expressions!! We're celebrated TE's Birthday with a HUGE birthday release that is absolutely awesome! So many great stamps, stencils, foil-its and dies in this release!! Today, I'm sharing several projects so grab some cake and ice cream and join me for all the inspiration!
Get Thready Sunburst Happy Birthday Card
Do you like to stitch or love the look of stitched cards but not sure you have the time (this would be me). The Get Thready Sunburst Cover Plate creates a template for all your stitches to create sunbursts and other fun designs. It's quick, fun and super simple! For my card, I created a rainbow ink-blended background and then used the cutting plate to create the stitched hole template. I stitched several sunbursts in a tradition birthday fireworks design (this stitched design would look great on celebration, new year and 4th of July cards!) and for the smaller bursts, I did a running stitch to create a full circle shape with an Iridescent Drip Drops. To finish the card, I added the Silver Glitter & Vellum Happy Birthday Sentiment using the new Bold Birthday Die & Backer.
Get Thready Sunburst Happy Birthday Supply List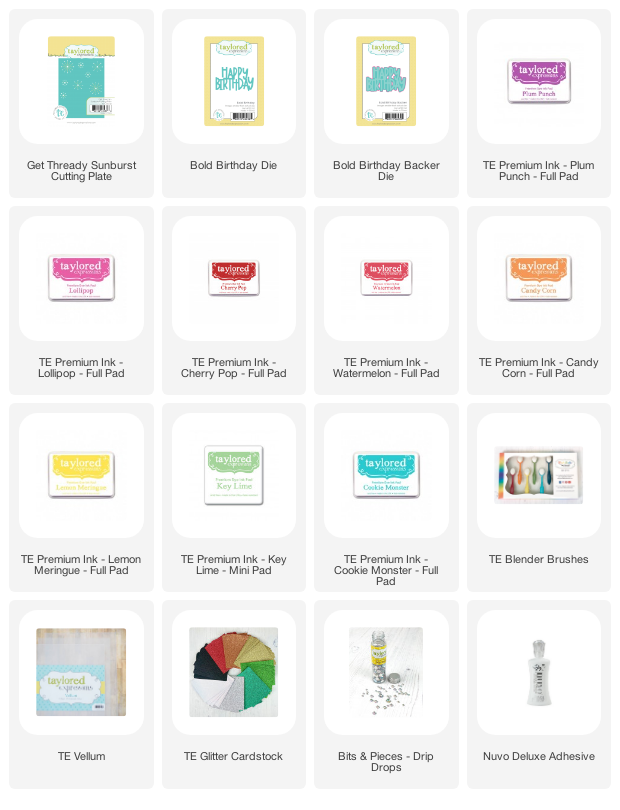 Let Them Eat Cake & Mix & Match Drip & Drops Cards
After making this card duo, I was seriously craving cake and Neapolitan Ice Cream 🙂 Especially, since I used cardstock called Chocolate Truffle, Buttercream & Cupcake for the Icing Drips and Yummy Cake Dots.
For the cupcakes and layered cake, I used the Let Them Eat Cake Layering Stencil and Coordinating dies with Lollipop, Chocolate Truffle & Buttercream Inks (plus Potato Chip & Pineapple for the candles). For extra icing appeal, I added glossy accents to the Layered Cake and Sprinkle Dots on one of the cupcakes. For the second cupcake, I added a layer of Iridescent Happy Medium for extra sparkle.
For the Cake+Cupcake card, I added the gold embossed Hooray It's Your Day sentiment from the Happy Hooray Stamp+Coordinating Dies along with Clay Stars & Strawberry Milkshake Tiny Diamonds.
For the Let them Eat Cake, I centered the glitter sparkle stenciled cupcake between the two Happy Anni-Birthary Sentiments in Lollipop ink. Then I added Glossy Accents to the top of the Icing Drop Die Cut and dipped it in Iridescent Stars for a extra celebration yumminess.
Mix & Match Drip & Dots & Let Them Eat Cake Supplies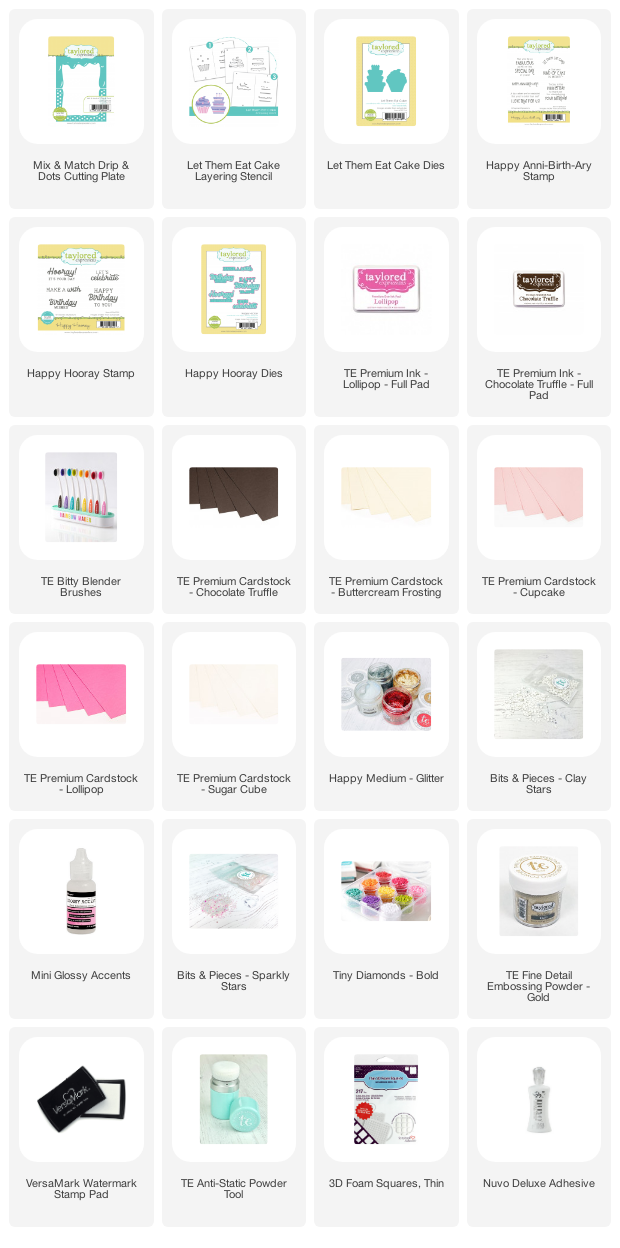 Make a Wish Triple Slim Celebrate & Candle Cards
I absolutely love a Mini Slim-Sized card and there's a new Triple Slim Layering Stencil that creates three card backgrounds from one set of layering stencils. Today, I'm sharing two cards (Mini Slim + A4) using just the candles portion of the Celebration Triple Slim Layering Stencil with the coordinating Triple Slim Celebrate Candles Dies that cuts out all the individual candles in one crank of the die cutting machine.
Of course, I had to do my candles in rainbow order. Since all the candles are across three different stencils, I wanted to share my quick rainbow order layering stencil tip with you. With a permanent marker I number each candle across all three layering stencils and covered the number markings with clear tape. Then I created a numbered cheat sheet 1-17 that I labeled in rainbow order. From their it was easy-peasy to match the correct color between the different layered stencils.
For the Mini Slim Birthday Card—after stenciling the candles, I cut them from the Triple Slim Celebrate Candies Die. I kept the negative pieces as my template to layout the candles for the Make A Wish Mini Slim Card…I placed the negative die cut on an Oreo Mini Slim Base and then glued the candles in place and removed the template once all the candles were in place to reveal a straight row of rainbow candles. To finish the card, I added a white and black embossed Make a Wish Sentiment from Happy Hooray and White Clay star embellishments.
For the A2 Let's Celebrate Candles Birthday Card—I used the Mix & Match Drip & Drops + Sprinkles Embossing Folder to create a cake at the bottom of my card which I then adhered the candles in rainbow order. The white heat embossed Let's Celebrate sentiment is from the Tag Team-Birthday stamp set.
Triple Slim Celebrate & Candles Die Supply List

Bun-derful Birthday Pizza Party Cards
Ok, seriously this THE cutest set of fast food that I have EVER seen. I went with a Better Together Pizza Party Theme combining a yummy pepperoni pizza with your choice of Pop-Soda-Soda-Pop with Tick & Tacks Background and for all those Hawaiian Pizza Lovers out there (not me but I live in a household that insists) I made a second Better Together Mini Slim Card with the Pineapple Tutti Fruitti Image.
Bun-derful Birthday Supply List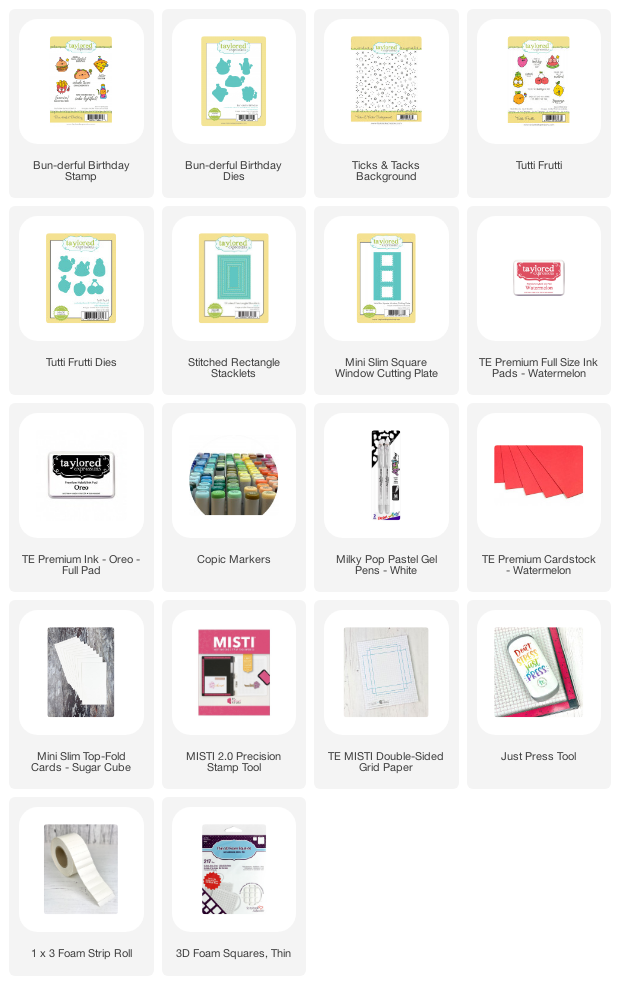 So there we are friends, a 14th Birthday Celebration of Celebration Cards using Fun Products from the new Taylored Expressions Birthday Release. I hope you enjoyed my post today! Thanks for stopping by and be sure to check out the Taylored Expressions blog and Taylored Expression for more Creative Team Inspiration and a look at the entire new release! Big Paper Hugs!
And before I go, New Release Promotions Below 🙂
Right now through Sunday, September 18th, purchase the Get Thready Bundle (Get Thready – Sunburst Cutting Plate die, Bold Birthday die, Bold Birthday Backer die, 4 colors of embroidery floss, 4 floss bobbins, and tapestry needle) and get access to the LIVE class on Facebook (Friday, September 23 at 7:00pm) with Taylor (If you aren't able to attend the class live, a replay will be available to view afterwards)! In this exciting virtual class, you'll learn how to use the Get Thready – Sunburst Cutting Plate die using all of Taylor's tips and tricks! Get Thready Bundle available while supplies last.
Right now through Sunday, September 18th we are including a freebie Birthday Bash stamp set with every order! This cute set includes a birthday present, cupcake, balloons, party blower, and happy birthday words to create cards, tags, and more to celebrate birthdays in style! Make sure to check out the Exclusive Maker Challenge that you can participate in on our Fans of Taylored Expressions Facebook page . Offer valid while supplies last.