Hi Friends and Happy Tuesday! Brrrr…it's that time of year to send some warm winter wishes with the new Create-In-Quads Snowflakes Layering Stencil Set and perfectly matched sentiments now available at Taylored Expressions!!
The Create-in-Quads Snowflakes Stencil set makes mass production (with a few customizations) SNOW much fun and easy. Perfect for getting a head start on your Holiday Gift Thank You and Winter Celebration Cards!
Today, I'm sharing two sets of cards (eight cards total!!)—so be sure to grab a hot cocoa to read through all the details. Because I MUST rainbow everything, my first crafty weather forecast called for bright and cheerful Rainbow & Polka Dot Flurries.
And after that rainbow flurry, it was time for some warm and cozy cards on Toffee Cardstock. 
Today's Forecast: Rainbow & Polka Dot Flurries
To get started creating the rainbow backgrounds, I lined the first layer stencil to a piece of Create-in-Quads Sugar Cube cardstock. Once everything is lined up, I like to add a piece of washi tape to secure the back of the cardstock to the stencil and then use magnets or washi tape to secure the stencil & cardstock to my work surface.
For the first layer, I used Itty Bitty blender brushes to add the first set of rainbow of ink colors—starting from the top with pinks and reds then moving down and across with yellow & oranges and then greens and blues. For the second layer stencil, I added a complimentary hue from the first rainbow layer and for the third layer, I added in the smaller nordic snowflakes in rainbow order (sneaking in a little purple to two of the designs). The last stencil adds in the snow fall and in my case the black (Poppy Seed Ink) polka dots using a black blender brush.
Now to customize the card panels with sentiments, die cut images and snowflake embellishments. 
Sentiments: I wanted the sentiments to pop off the rainbow backgrounds so I used White Embossing Powder on Oreo cardstock with the Winter Blessing Stamp along with snow-themed simple and mini strips. For extra dimension, I used the Winter Blessings die collection to cut a piece of black fun foam that I adhered behind the white embossed sentiments. 
Snowflakes: I used the Make a Snowflake dies and cut an assortment of snowflakes in White Glitter Cardstock and Vellum. The vellum looks so pretty stacked with the white glitter snowflakes. At the center of each snowflake, I added a Clear Drip Drop. I was so excited that you can see the yellow ink pop through the clear drip drop on the large snowflake warm wishes card design. 
Snowman: I used the Snow Squad Die & Clear Stamp Combo to create the snowman. The scarf and hat band was cut from a piece of patterned paper, the nose from candy corn cardstock with orange Copic coloring and R20-Blush Copic for the cute rosy cheeks. I then layered the Snowman to a Large Vellum Stitched Circle Stacklet which anchored the snowman to background without hiding the rainbow snowflakes.
To finish all the cards, I adhered each decorated card panel to an Oreo Cardstock base.
Rainbow Flurries Create-in-Quads Snowflake Supplies

Warm & COzy Snowflakes Hugs
I absolutely love the warm & cozy look of black, white and silver on Toffee Cardstock. For my background panels, I used all four stencil layers: Layer 1: Poppy Seed & Oreo Layer 2 & 3: Sugar Cube and Layer 4: Silver Happy Medium. After stenciling and trimming into four card panels, it was time to start customizing each card. 
For the full background panel, used the Snow Squad Die & Clear Combo Set to create the Polar Bear from Sugar Cube, Sea Salt & Oreo Cardstock. The face was stamped with Oreo Ink and the scarf details with Sugar Cube Ink. I anchored the Polar Bear to the snowflake background with an Arched Stacklet Frame in Vellum and Black Glitter Cardstock. The Warm Hugs Sentiment from the Get Cozy Sentiment Stamp Set was stamped with Oreo Ink and quickly heat embossed with clear embossing powder (my little trick smudge-proof images on vellum).
For the large snowflake design, I stamped the Get Cozy "Sending Warm Wishes" Sentiment on Sugar Cube Card Stock and die cut using the Circle Window Dies. I also used the Circle Window Die with Silver Glitter Cardstock for the sentiment frame and adhered the frame and sentiment to the center of the snowflake. 
For the Snow Many Thanks card panel, I heat embossed the sentiment to Oreo Cardstock with Silver Embossing Powder and then used a Rectangle Stacklet to create the Sentiment Block. To frame the sentiment and add extra dimension, I stacked Silver Glitter Cardstock & Vellum Snowflakes and adhered a Black Drip Drop to the center of each snowflake.
For the last warm and cozy Toffee panel, I heat embossed the Get Cozy "Sending you a FLURRY of Birthday Wishes" sentiment with Silver Embossing Powder to Oreo Cardstock. I then die cut the sentiment using the Rectangle Stacklets which I then layered to a Silver Foil Cardstock Stitched Rectangle. 
To finish the cards, I adhered all of the decorated panels to an Oreo Cardstock Base.
Warm & Cozy Toffee Create-in-Quads Snowflake Supplies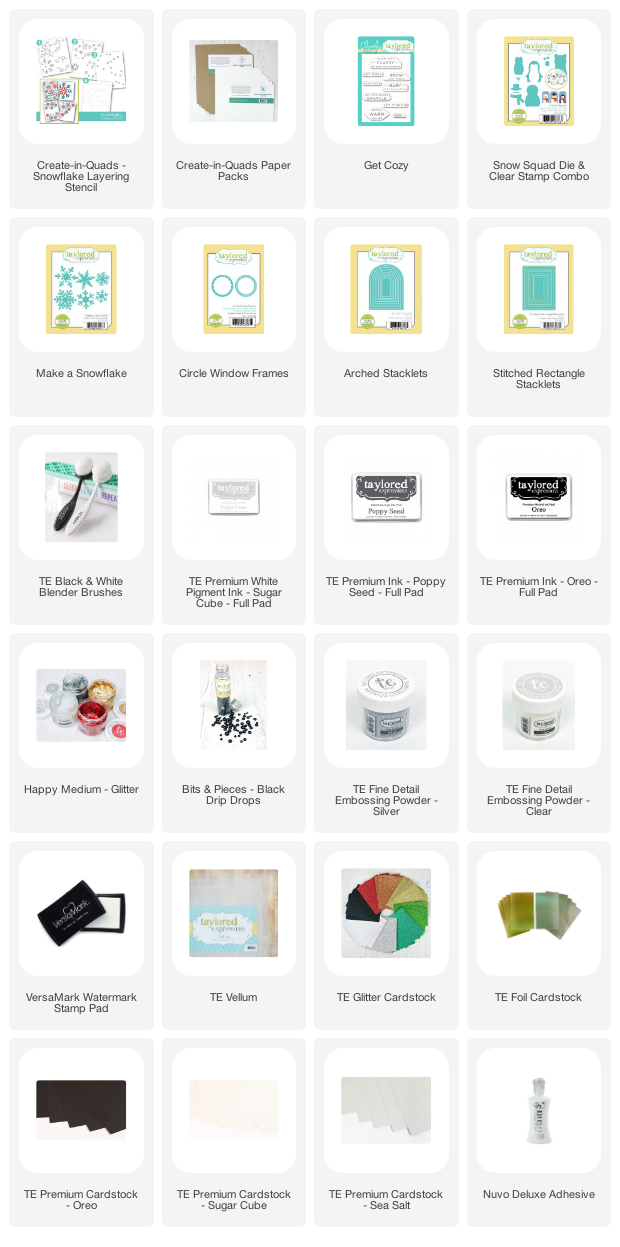 So there we are friends, eight card sets using the new Create-in-Quads Snowflake Stencil Set and snow themed sentiments from Get Cozy & Warm Blessings. I hope you enjoyed my projects today and thanks so much for stopping by.
Be sure to check out the Taylored Expressions Blog for more inspiration from the amazing Creative Team and stop by the Taylored Expressions shop so you can see all the new goodies. New Release Promotional Details below: 
When you purchase the Create-in-Quads Snowflake "I Want it All" Bundle (Create-in-Quads Snowflake Layered Stencil set, Winter Blessings stamp set, Winter Blessings die collection, and Clearly Crafty Get Cozy stamp set) through Sunday, December 12th, you will get a free exclusive video craft along class with Taylor!
This mini version of our Online Crafty Classes is a great way for you to put your new goodies to use right away making projects at your own pace! Watch the video as often as you like and learn some new card-making tips and tricks!
Once you complete your purchase, you will receive an email (separate from your order confirmation email) with links to the class video on YouTube.
**Although Taylor will recommend extra supplies (cardstock, ink, embellishments, etc.), you can use anything you have to make these projects uniquely yours!
Hurry! This offer is only valid through 11:59 pm (CT) on Sunday, December 12th, or while supplies last.
Big Paper Hugs!
Emily