I am SO excited about the New Blender Brush Release at Taylored Expressions. Wait until you see the most Adorable & Functional Bitty Brushes and the awesome Black & White Blender Brush Set.
To go along with the new Blender Brushes there's also new STENCILS!! I seriously could not put these brushes down and had a blast creating three pairs of cards with the new Striped Square and Delightful Daisy Stencils. Be sure to scroll through the entire post for all the cardmaking details and supply lists.
Gus and Gertie's personalities called for some Fun Color Block backgrounds. I grabbed the New Adorable & Functional Bitty Brushes and Striped Square Stencil + Rectangle Masking Stencil and started masking & blending away with bright and cheerful ink colors.
After stenciling, I added a rectangle diagonal stitched border to complete the color block backgrounds. I colored Gus and Gertie with Copic Markers and adhered them to the stenciled background using foam tape.
Skateboarding Pals: Potato Chip, Lemon Meringue & Cookie Monster.
Driving Pals: Lemon Meringue, Watermelon, Strawberry Milkshake/Lollipop, Peaches & Cream/Candy Corn.
The Striped Square Stencil not only looks great in bright colors but it's the perfect stencil to create modern-CAS black and white backgrounds. With the Striped Square Stencil + Square Masking Stencil I used the Black Blender Brush to add Poppy Seed and Oreo Ink Blending. Having a dedicated blender brush for black ink is awesome!
In yellows & purples, I layered & adhered the stamped, water-colored and die-cut the Pretty Picked Posies to the black and white striped square backgrounds. For extra dimension, I added a stitched square diagonal pattern to the smaller striped square and Clear Drip Drops to the flower centers.
To complete the cards, I added a Plum Punch Sentiment Strip that was heat embossed with white embossing powder.
The Delightful Daisy Stencil is the perfect match for the White Blender Brush & Sugar Cube Ink. I'm SO excited to finally have a Blender Brush dedicated to the Sugar Cube Hybrid Ink and not have to worry about cleaning after every use!!
For my cards, I used the White Blender Brush and stenciled the daisy petals to Jelly Donut and Sea Salt Cardstock with Sugar Cube Ink. With a Bitty Brush, I added in the yellow daisy centers with Lemon Meringue Ink and on the Sea Salt background added white gel pen detailing to the center of the daisy petals for extra dimension.
I stamped, water-colored and die-cut the Happy Gnomes from Like Gnome Other in Blues and Purples and then adhered them to a vellum stitched circle stacklet. To complete the cards, I added the silver heat embossed sentiments from the Love Additions & Happy Additions Building Blocks Stamp Sets and Coordinating Building Blocks Die. 
So there we are friends, several cards using the new Black & White Blending Brushes and the cutest ever Bitty Brushes. Below are all the fun supplies that I used to create all six cards 🙂
Be sure to stop by the Taylored Expressions shop to check out all the other stencils in the release along with amazing inspiration from the amazing TE Creative Team. Taylored Expressions is also offering an amazing I Want It All New Release Bundle:
The I Want it ALL Bundle retails for $75 and includes the following:
Bitty Blender Brushes (set of 6)
Bitty Blender Brush labels
Black & White Blender Brushes (set of 2)
All 6 new stencils
8.5″ x 11″ Grid Paper Placemat Pad
The special introductory price of $75 on the I Want it ALL Bundle is available now through Sunday, April 25th, or while supplies last!
I hope you enjoyed my cards today and it inspires you to use your stencils in fun new ways. Thanks for stopping by!
Supply List: Bitty Brushes, Striped Square Stencil & Gus and Gertie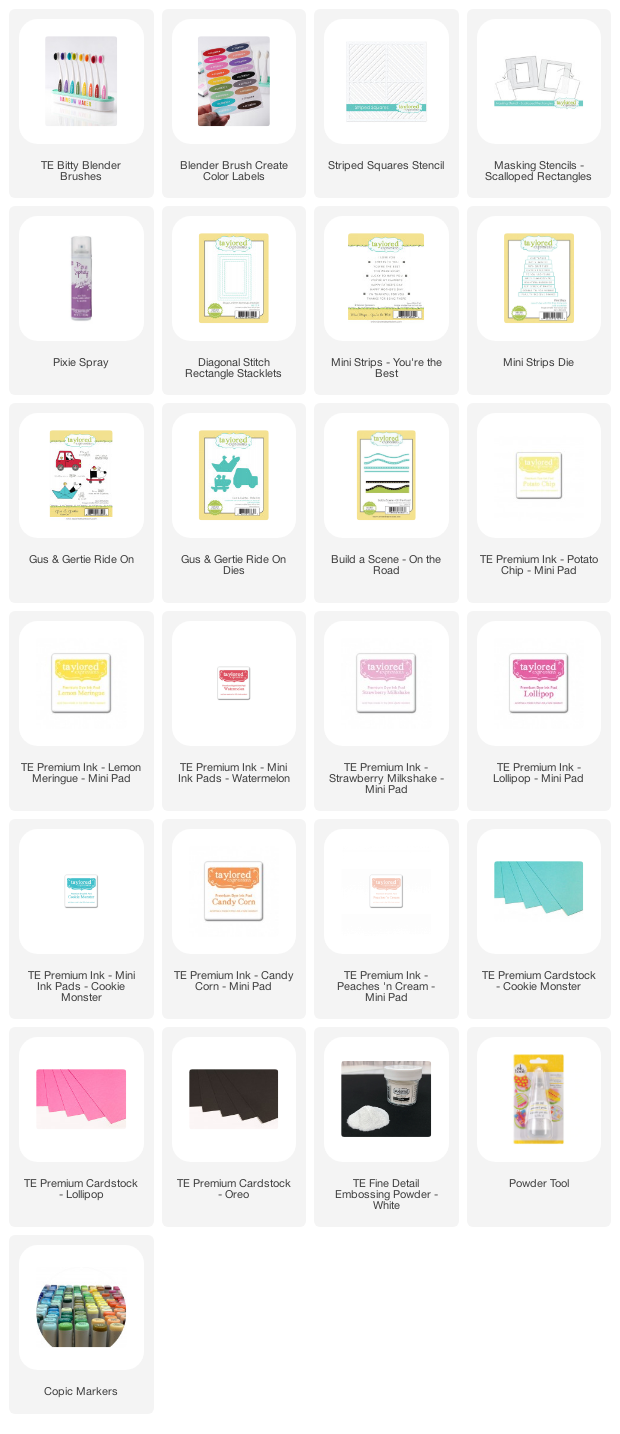 Supply List: Black Blender Brush, Striped Square Stencil & Pretty Posies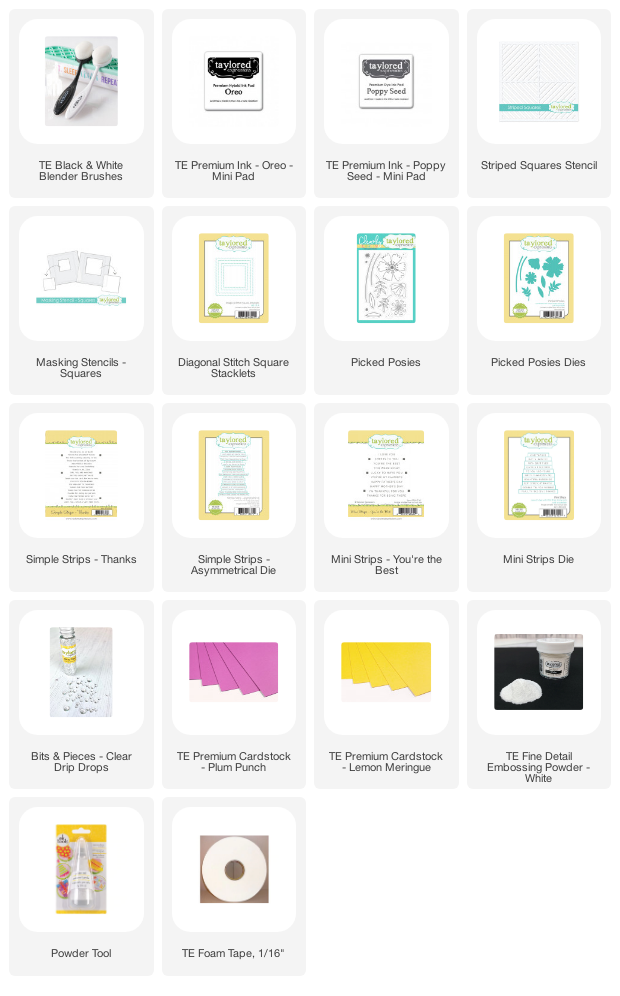 Supply List: White Blender Brush, Delightful Daisy Stencil & Gnome One Like You