Hi Friends and Happy Tuesday! It's release day over at Taylored Expressions and it's all about the Mini Slim Card Size! The mini Slim Card is one of my favorite new card sizes to work with as it's not too big, it's not too small…it's just right if you're looking to play with something different from the A4 card size. The Mini Slim is like the bite-size candy bar of cardmaking 🙂
Let's get started with some cute critter cards using the new Little Critters Stamp Set, Just Saying Stamp Set and Square Window Die and then a Hexagon Tri-Fold Valentine using Love from Millie and Max. Be sure to keep scrolling for a Two-For Idea using the new Mini Slim Diagonal Cover Plate. 
Little Critters and Square Window Die
The Little Critters Stamp Set is absolutely adorable and images are a perfect fit with the Mini Slim Square and Circle Window Dies. For my card, I stamped the llama image three times, colored him with Zig Clean and Clear Brush Markers and then nestled him into the square windows so he was peeking around in all different directions. The sentiments from the Just Saying Stamp Set are perfectly sized to add in between the windows. I stamped "Peeking in to Say Helle" with Oreo Ink and then added the white heat embossed "Hey Girl Hey" sentiment strip from the Fun and Funny Mini Strips Stamp set. The card panel was attached to a Lollipop Top-Fold Card Base with foam adhesive. For a little extra love, I added a few Bits and Pieces Hearts to each of the window openings. 
Llama Llama Little Critter Supplies: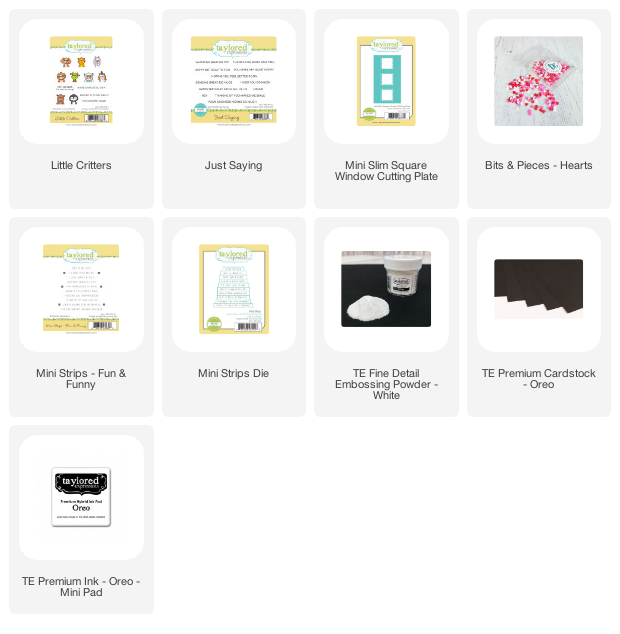 Release Promotion Details: January 26th through Sunday, January 31st (or while supplies last), you can get the Little Critters Mini Slim Bundle for 15% off! The bundle includes the Little Critters stamp set, the Just Saying stamp set, and the Mini Slim Square Window Cutting Plate die. The discounted bundle price is only available through Sunday, January 31st.
Tri-Fold Hexagon Valentine Card
Taylored Expressions has added two new shapes to the Tri-Fold collection: Circle and Hexagon to go along with the original square tri-fold. This was the first trifold card I have EVER made and the templates, dies and tri-fold pre-made cards made it so much easier than I thought it would be. I also love the idea of creating a little story when your recipient opens their card. I thought it would be fun to open up little love notes as you opened up the Hexagon Tri-Fold card starting with Happy Valentine's Day with Millie and a Colorful "daytime" set of balloons then I love you so much and for the final reveal…I Love You To The Moon and Back with Millie soaring up to the moon with her bunches of balloons in "nighttime" colors.
Hexagon Tri-Fold Valentine Supplies: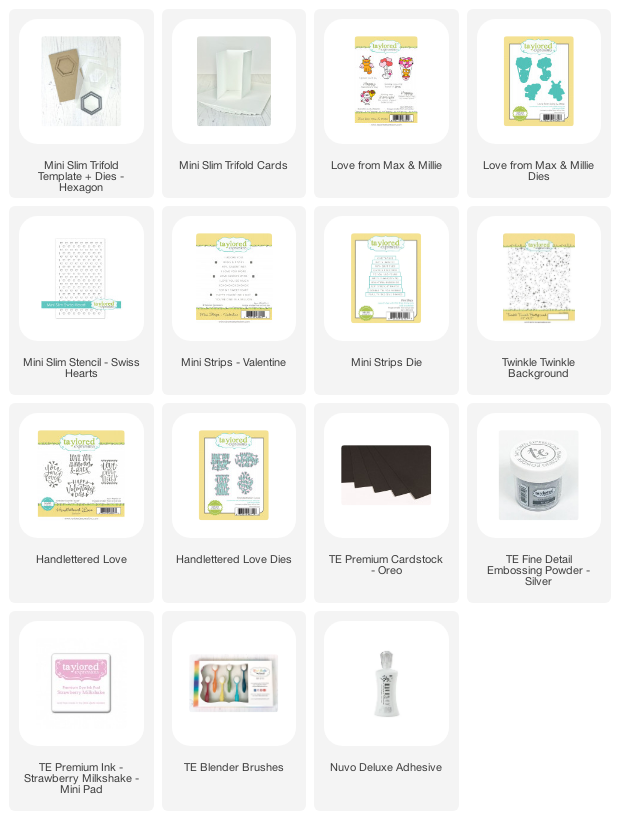 Mini Slim Diagonal Two-For Card Design
I love it when you can maximize your supplies and boy does the Mini Slim Diagonal Cover Plate deliver! To create my two cards, I ran the cover plate through my die cut machine first with a piece of Sugar Cube Card Stock and then with a piece of Oreo Card Stock. Then I just swapped the Striped Inlay Die Cuts to create the two different cards. 
For the first card, I added the Oreo inlays to the Sugar Cube Cover Plate Frame which created a bold black and white striped pattern. Then I painted the Sketchbook Florals in purples and green Karin Markers. I combined the two floral images with liquid adhesive and then tied a piece of purple baker's twine. The Sentiments are from Building Blocks Love Additions (Hello) and an Asymmetrical Cut Sentiment Strip.
For the second card, I used the flowers as my color palette and selected several ink colors to match. Then I used blending brushes to add the different colors to the Sugar Cube stitched stripe die cuts. Using liquid adhesive, I added each stripe to the Oreo Cover Plate Frame. To finish the card, I added the Hello Word (Oreo Cardstock) and Shadow Die (White Glitter Cardstock) and an Asymmetrical Sentiment Strip. 
Two-For Mini Slim Diagonal Cover Plate Supplies: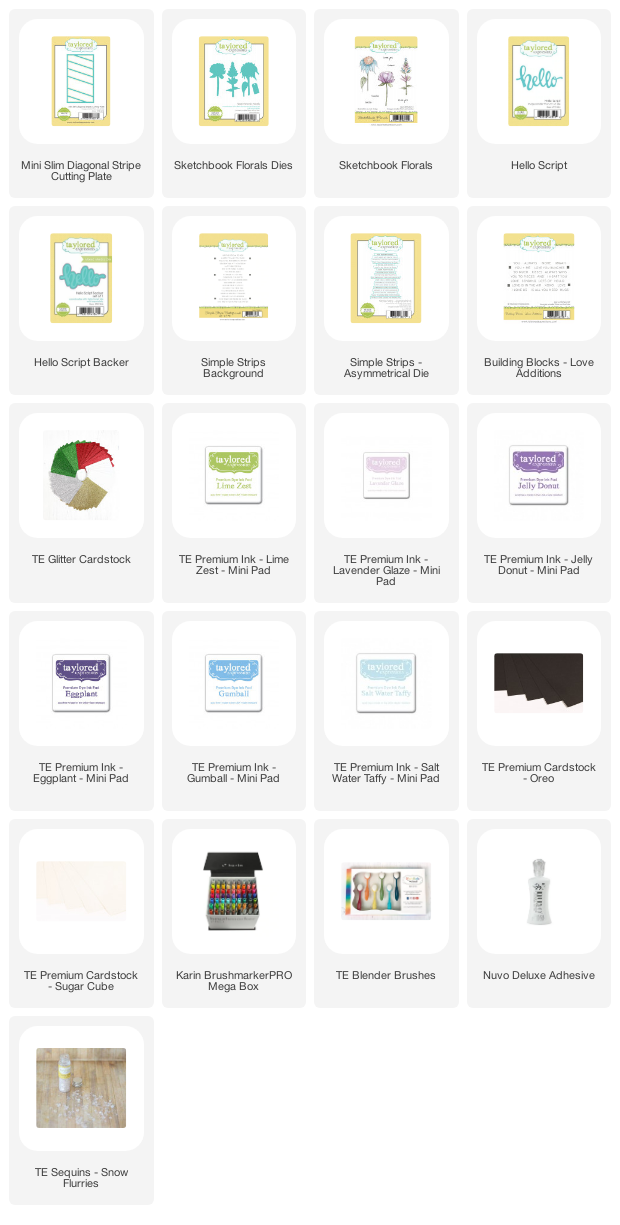 So there we are friends bright, cheerful "bite-size" cards using the Mini Slim Essentials Taylored Expressions Release. I hope you enjoyed my post today and inspires you to have fun with the Mini Slim Stamps, Dies and Stencils!
Big Paper Hugs!
Emily